Playposit is an online learning environment to create and share interactive video lessons. The simple and intuitive browser interface includes an extensive video search feature, video editing and a variety of interaction tools including: video crop, multiple choice, free response, reflective pause, check all that apply, skip segment, link to URL, fill in blank, and polling. 
Click on the links below for quick access to sections:
Overview of Playposit
Key Features
Getting Started – Instructors
Getting Started – Students
Additional Support Documentation and Training
Playposit Quick Guide
Overview of Playposit
Instructors can choose Playposit lessons (or as Playposit calls them, Bulbs) from a library of ready to use content, or create their own lessons (Bulbs) from scratch by selecting videos and adding interactive elements. Playposit supports seven video sources including: YouTube, Vimeo, TeacherTube, Shmoop, Google Drive videos (instructions here), ShowMe, SchoolTube, and many more with other playposit Chrome Extension!
Participate in this PlayPosit Overview lesson to better understand what is possible with PlayPosit:
Bulbs are published publicly or privately through the Playposit website and student responses are captured and stored for individual or course level review, analysis, and synchronization with Blackboard.
Because Northeastern has purchased licenses for faculty and students, all faculty are granted Premium accounts when they log in through Blackboard. When the Playposit Bulb is created through Blackboard and linked correctly, a Grade Center column will automatically be created. Faculty can grade in Playposit and have the grade sent directly to the Blackboard Grade Center. In addition, if you use the Blackboard integration feature, you don't have to go through the process of sharing bulbs individually with students. Adding the link through the Blackboard integration feature will grant students in your course access to the Playposit video automatically.
Key Features
8 interactivity type options
Integrate video lesson directly into your Blackboard course
View student progress through Analytics dashboard
Choose from a video lesson library
Search for videos without leaving Playposit
Over 8 Video sources supported
Live chat with instructors
Zaption migration support
Audio recorder for answers
Getting Started – Instructors
Download our Quick Start Guide to PlayPosit!
Instructors can access Playposit by either going directly to playposit.com/northeastern [this link URL may change] or by adding a Playposit tool link into a content area of a Blackboard course.
Create or reuse a Playposit Bulb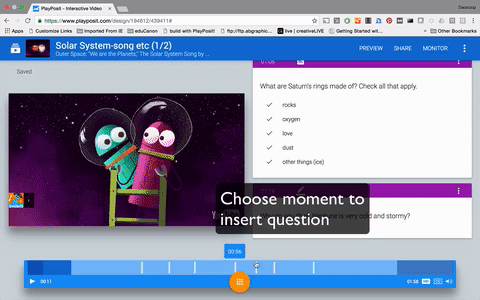 Resources for building a Playposit lesson: 
Additional Instructor resources:
Getting Started – Students
To access Playposit, students will need to login to Northeastern Blackboard and navigate to their course. If an instructor has assigned a Playposit lesson, click on the lesson link in the course to complete the lesson.
Please note, it is recommended that you create and complete bulbs using the Chrome browser. Some loss of editing and viewing functionality can occur using Internet Explorer or Mozilla Firefox. For additional information go to Playposit's Technical Requirements page.
Additional Student Resources:
Training and Support